Chinese logic 63 酱
waveChinese
15th March 2018
Check out this saucy image. The chilli paste is hot!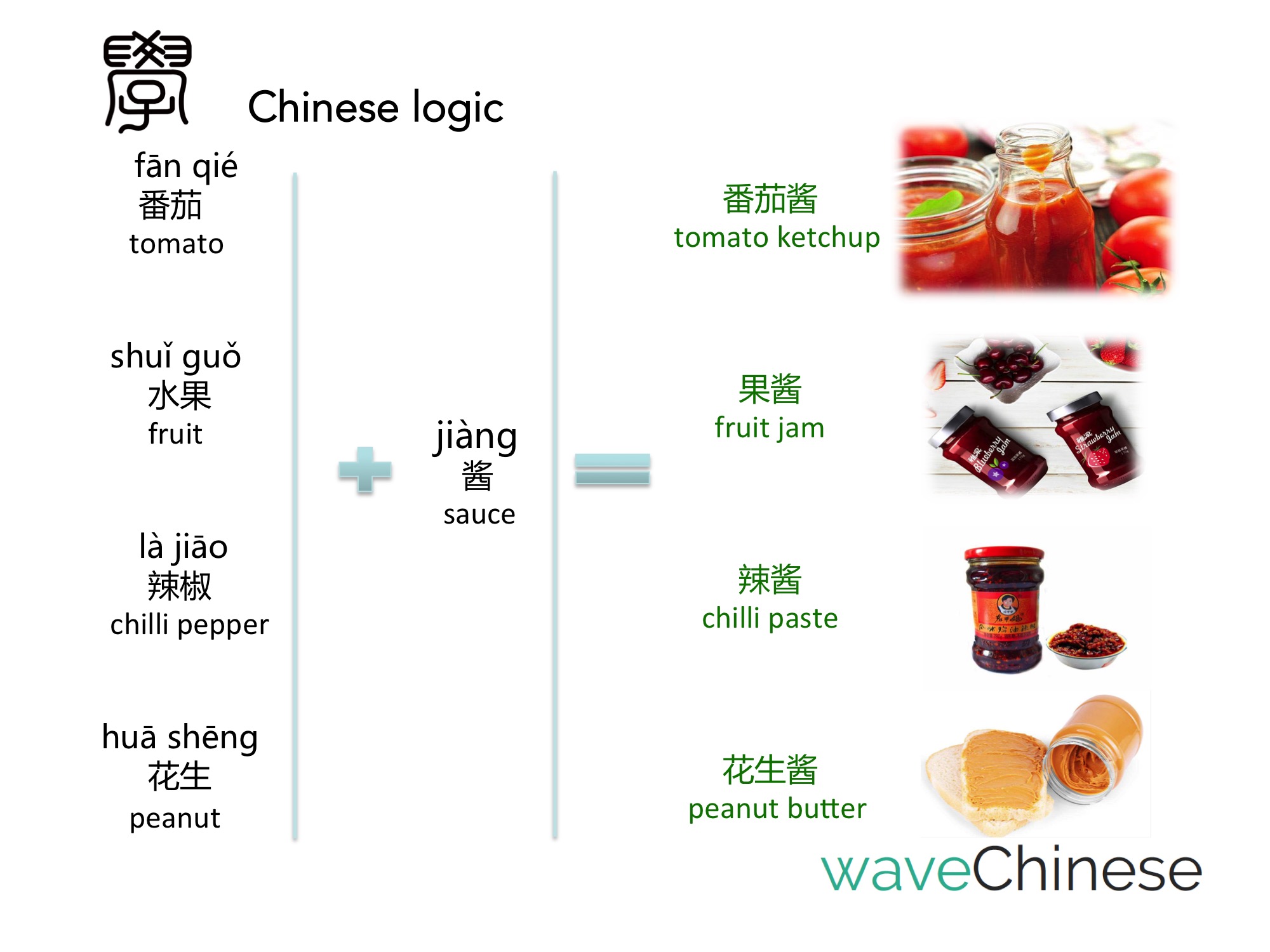 DIALOGUE 对话
在家吃晚饭
丈夫:老婆,今天这个鱼香茄子,你怎么做的?味道特别棒!比以前做的都好吃。
妻子:是吧?这是朋友告诉我的小秘密。
丈夫:什么小秘密?
妻子:番茄酱。我加了一些番茄酱。
丈夫:原来如此。我只知道加点儿辣酱好吃,没想到还要加番茄酱。
妻子:我也是第一次尝试。对了,还剩几片面包,你把它们都吃了吧?
丈夫:那你帮我拿点儿果酱。我抹点儿果酱吃。
妻子:不好意思,没了。今天早上蓝莓果酱刚被吃完,草莓果酱也没了。
丈夫:花生酱还有吗?
妻子:有。稍等。

TRANSLATION

Have dinner at home
Husband: Dear, how did you cook this fish-flavored eggplant today? It tastes great! It tastes more delicious than ever before.
Wife: Does it? It's a little secret a friend told me.
Husband: What little secret?
Wife: Ketchup. I added some ketchup.
Husband: So that explains it. I only know that it's good to add a little spicy sauce, and never thought of adding ketchup.
Wife: It's also my first try. By the way, there are still a few slices of bread left. You eat them all, okay?
Husband: In that case, get some jam for me. I will spread a little on it.
Wife: Sorry, it's gone. The blueberry jam's just gone this morning, and the strawberry jam's gone, too.
Husband: Any peanut butter?
Wife: Yes. Wait a minute.
Original free Chinese learning materials made by experienced native Chinese tutors!