Chinese logic -8 生鸡蛋 | 熟鸡蛋 | 陌生人 | 熟人
waveChinese
11th May 2013
‍‍Dan doesn't make a great Chinese name. As for Ben…‍‍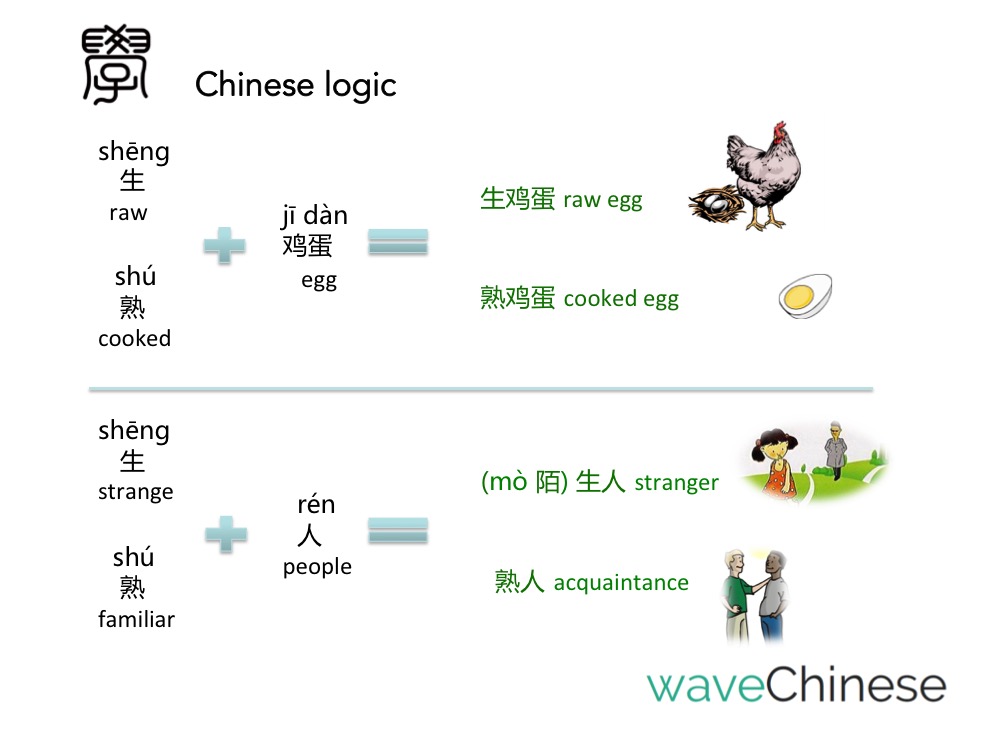 DIALOGUE
在厨房准备晚饭
妈妈:放下,放下,傻儿子。那是生鸡蛋!熟鸡蛋在冰箱里。
儿子:煮的吗?
妈妈:对。今天早上煮的。应该还剩下两个。你在冰箱里看一下。
儿子:看到了。妈,你见过别人吃生鸡蛋吗?
妈妈:听说过。有些人就喜欢吃生鸡蛋,觉得生鸡蛋对身体更好。
儿子:马小明说他二叔每天吃一个生鸡蛋。
妈妈:马小明二叔是我高中同学,老熟人。我们二十年前就认识了。没听说过他喜欢吃生鸡蛋呀。
儿子:上次我在回家路上遇到了马小明二叔,不过没打招呼。他不认识我。
妈妈:对着呢。这种情况不用打招呼。在外面不要随便跟陌生人说话。
儿子:我知道。
TRANSLATION
Preparing dinner in the kitchen
Mom: Put it down! Put it down! My silly son. They are raw eggs! The cooked eggs are in the refrigerator.
Son: The boiled ones?
Mom: Yes. The ones I boiled this morning. There should still be two left. Have a look at the refrigerator.
Son: I've got it. Mom, have you seen anybody eat raw eggs ever?
Mom: I've heard of it. Some people like to eat raw eggs, and they think it's better for their health.
Son: Ma Xiaoming said his uncle ate a raw egg every day.
Mom: Ma Xiaoming's uncle is my high school classmate, an old acquaintance. We met each other twenty years ago. I've never heard of that.
Son: I met Ma Xiaoming's uncle on my way home last time. But I didn't say hello. He didn't recognize me.
Mom: You were right. It's no need to say hello in this situation. Never talk to strangers outside casually.
Son: I knew that.
Original free Chinese learning materials made by experienced native Chinese tutors!