Chinese logic -49 东京 | 西京 | 南京 | 北京
waveChinese
25th August 2016
The logic of Chinese language helps learners learn new words without too much difficulty. Eastern country capitals follow an easy to remember pattern - although this doesn't extend to the West!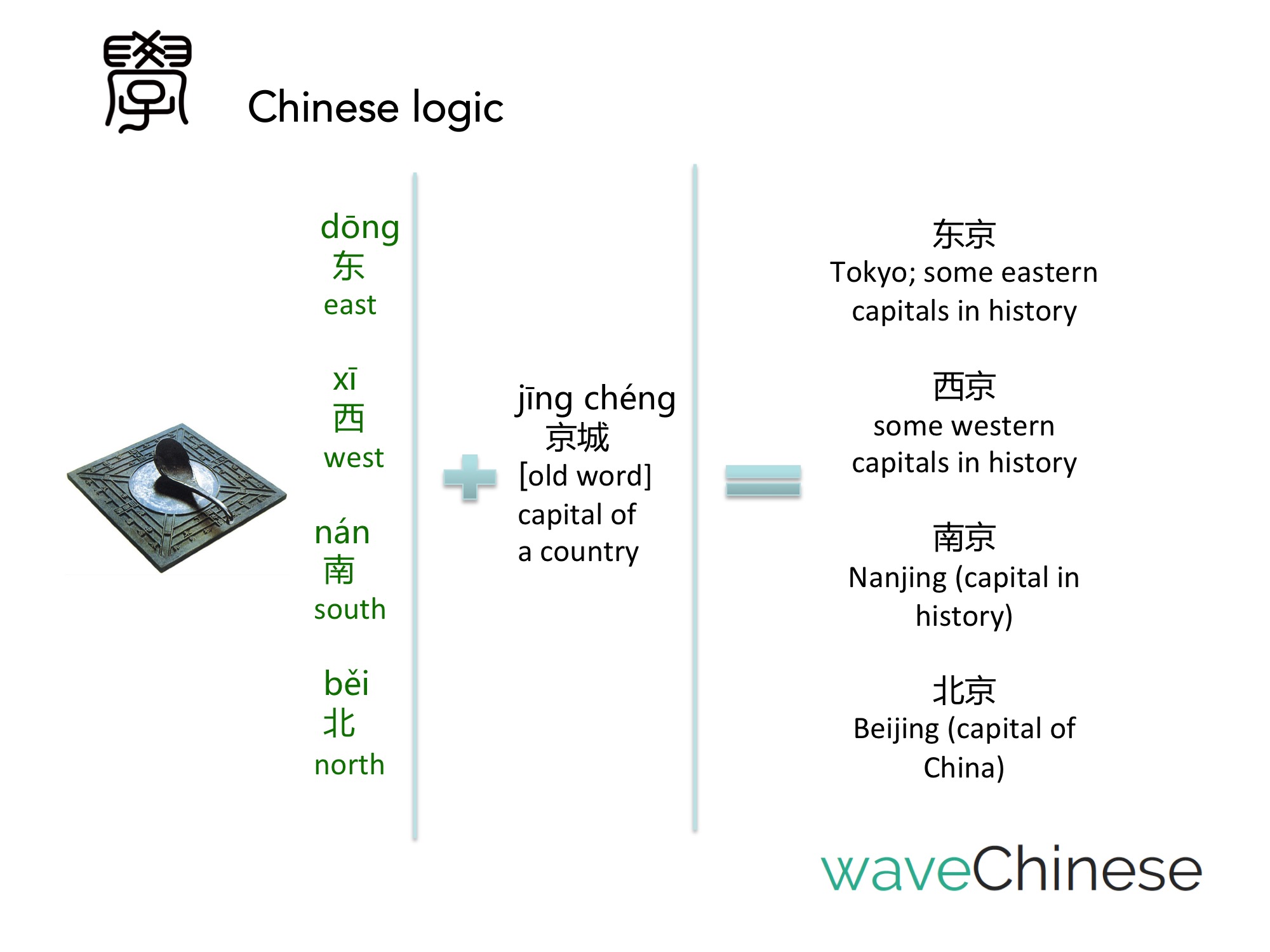 DIALOGUE


看地图
老师:北京在这里。上海在这里。上海旁边有杭州、南京。杭州和南京都是很古老的城市。

Mark:为什么北京叫北京,南京叫南京?
老师:"京"的意思是"首都"。北京就是北边的首都。南京是南边的首都。
Mark:我知道北京是中国的首都。为什么南京也是首都?
老师:在历史上,南京曾经是六个朝代的首都。
Mark:很厉害呀!
老师:还有更厉害的。西安曾经是十三个朝代的首都。大家叫它"十三朝古都"。
Mark:那南京就是"六朝古都"。不过,西安为什么不叫西京?
老师:好问题。在历史上,西安曾经的一个名字就叫西京。
Mark:北京、南京、西京,那有没有东京?
老师:你问得很好。东京的意思是东边的首都。中国历史上确实有东京。不过,现在东京是日本的首都。
Mark:为什么日本的首都叫东京?
老师:日本的文字有一部分是汉字。在日本,大部分地方都有汉字地名。日本的首都本来是京都,东京本来叫江户,但是在1868年,日本人把首都从京都迁到了江户,并且给江户起了一个新名字—东京。
Mark:原来是这样。地名里竟然有这么多学问。谢谢你的解释,老师。
老师:不客气。以后你会学到更多有意思的中国文化的。
TRANSLATION


Look at the map
Teacher: Beijing is here. Shanghai is here. Shanghai is next to Hangzhou and Nanjing. Hangzhou and Nanjing are both ancient cities.
Mark: Why does Beijing have the name "Beijing" and Nanjing have the name "Nanjing"?
Teacher: "Jing" means "capital." Beijing is just a capital in the north. Nanjing is a capital in the south.
Mark: I know Beijing is the capital of China. Why is Nanjing also the capital?
Teacher: Nanjing used to be the capitals of six dynasties in history.
Mark: That is awesome!
Teacher: There is a greater one. Xi'an used to be the capitals of thirteen dynasties. We call it "Ancient Capital of Thirteen Dynasties."
Mark: In that case, Nanjing is "Ancient Capital of Six Dynasties." But why isn't Xi'an's name Xijing?
Teacher: Good question. Xi'an was just called Xijing once in the history.
Mark: Beijing, Nanjing, Xijing, is there Dongjing in that case?
Teacher: That's a good question. Dongjing means a capital in the east. There was a Dongjing in Chinese history. However, Dongjing is the capital of Japan at present.
Mark: Why is Japan's capital called Dongjing?
Teacher: Chinese characters are a part of the Japanese language. In Japan, most places have names written in Chinese characters. Kyoto was the capital of Japan formerly, Tokyo was called Edo originally, but the Japanese moved their capital from Kyoto to Edo in 1868 and gave Edo a new name - Tokyo.
Mark: That's it. There is much to learn from place-names. Thank you for your explanation, sir.
Teacher: You're welcome. You will learn more interesting Chinese culture later.
Original free Chinese learning materials made by experienced native Chinese tutors!