Chinese logic -26 餐桌 | 书桌 | 办公桌
waveChinese
6th June 2016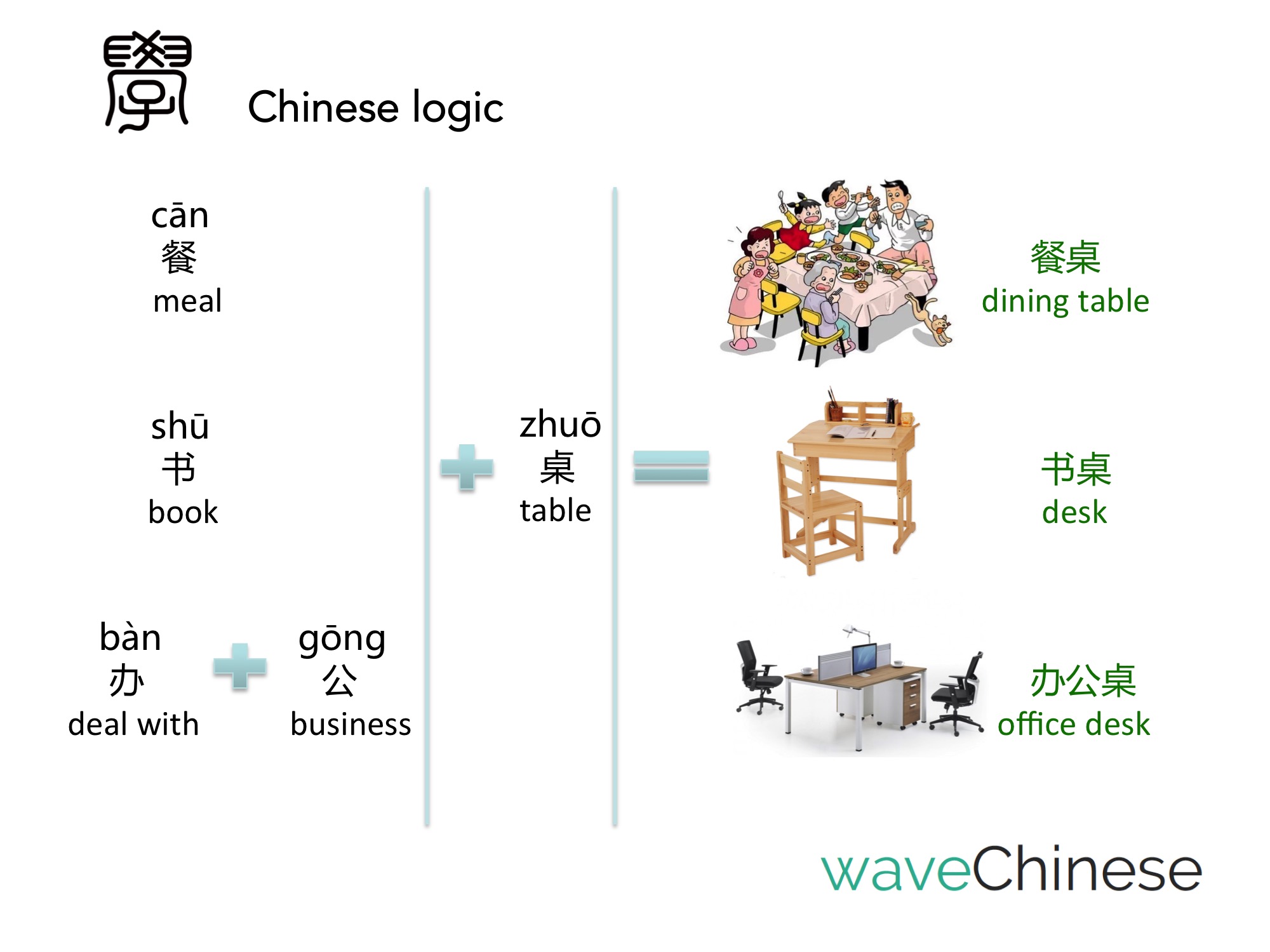 DIALOGUE
在朋友家
朋友:快进来!快进来!
王华:你家真大!又干净又漂亮!
朋友:谢谢。来,我带你到处看一看。这是餐厅。
王华:这个餐桌真漂亮!颜色看起来很舒服。我特别喜欢这样的餐桌。
朋友:是我老公选的。你看,左边那个房间是书房,右边那个是我在家里的办公室。
王华:我看看。…… 你家的桌子都在哪儿买的?一个比一个漂亮。餐桌、书桌、办公桌,每个我都特别喜欢。
朋友:我在网上买的。你好像很喜欢桌子。
王华:是。小时候我家只有一张桌子,是餐桌,也是书桌,还是办公桌。每天晚饭以后,爸爸、妈妈和我坐在桌子旁边。他们看书或者工作,我写作业。很喜欢那种感觉,所以我一直喜欢桌子,也喜欢买桌子。
朋友:原来如此。
TRANSLATION
At a friend's home
Friend: Come on in!
Wang Hua: Your house is massive! Clean and nice!
Friend: Thank you. Come on, let me show you around. It is the dining room.
Wang Hua: This dining table is gorgeous! The color looks very nice. I particularly like this type of table.
Friend: It is my husband's choice. Look, the room on the left is the study. The one on the right is my home office.
Wang Hua: Let me see. Where did you buy these tables? All of them are gorgeous. Dining table, desk, office table, I like each of them very much.
Friend: I bought them online. You seem to like tables very much.
Wang Hua: Yes. There's only one table in our house when I was young. It's our dining table, also our desk or office table. My Dad, mom, and I sat at the table every evening after dinner. They read books or worked, and I wrote the homework. I liked that feeling very much. Therefore I've always enjoyed buying this.
Friend: That explains it.
Original free Chinese learning materials made by experienced native Chinese tutors!