Learning Chinese through songs: practical tips for beginners
waveChinese
13th September 2016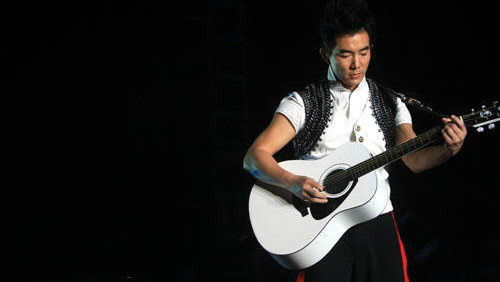 Many of our students ask me to recommend Chinese songs. There's much music out there, but not all songs are particularly great for learning Chinese. So, I've put together some tips for beginners to choose suitable pieces and a few ideas about how best to approach learning them.

What kind of Chinese songs are suitable for beginners?
Firstly, a precise rhythm and good enunciation certainly helps.


Secondly, it's easier to listen to songs in a limited vocal range -- i.e., without the sort of verbal gymnastics that modern artists love to show off.


Thirdly, simple lyrics that already contain studied words. Many songs use over-complicated arty words; best to avoid these.
Learn songs effectively
First up, listen to it and don't bother with the lyrics. After you're used to the sounds, follow along with the pinyin (we have some helpful links below).
Next, don't follow the lyrics, and if you still can recognize the vocab. Write down the characters if you'd like.
After that, look up any unknown words and commit them to memory. It may also help ask a Chinese person or your teacher about the meaning; some songs have strong cultural references. Although many are shallow pop, it will help your recollection. For the musically inclined, feel free to practice with your teacher. If you are tone-deaf, however, then please be kind and stick with reciting. Teachers, despite common conceptions, can experience pain too.
Finally, if you're in China, head down to your local KTV (Karaoke venue) and show off your new-found skills.
Some helpful resources for finding Chinese songs for free
First, the most convenient and direct way to find Chinese songs is to use www.baidu.com (China's equivalent of Google). However, many pieces are restricted outside China, in which case you want to check Apple Music or Spotify if you have a subscription - they have a good selection.


Secondly, www.xiami.com. This website is extremely famous in China as it offers a large amount of songs - both international and Chinese. There's an app too.
Ten recommended songs (with decent grammar)
That's all for now. Let us know how you get on. Good luck!
Original free Chinese learning materials made by experienced native Chinese tutors!